Designed and developed by Lunds Design
Downloads
Below are electronic versions of product catalogues available to
view or download in PDF format. The Brackets Catalogue is
essential reading for anyone in the transportation or security
industry and the Test Bench Catalogue is aimed at the aerospace
industry.
The Standard Brackets Catalogue
Click on the image to download the latest
Brackets Catalogue. The Catalogue has
been added to over the years and can now
offer a comprehensive range of brackets
for fixing security cameras, speakers and
VID units through out the London
Underground network.
These brackets have been designed with
safety in mind and have been subjected to
structural calculations by a qualified structural engineer.
All Brackets are powder coated with a low smoke, zero
halogen paint finish to comply with current regulations.
This is an essential reference for LUL contractors - download
now.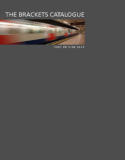 The Aerospace Test
Bench Catalogue
Click on the image to download the
latest Test Bench Catalogue. The
Catalogue has been updated with all
the latest designs and configurations.
Designed to house 19" Rack
Mountable Electronics these benches
are used exclusively by BAe Systems
for testing of the various systems
used in their fighter jet designs.
Other aerospace companies are
adopting this design as an industry
standard - download now
.